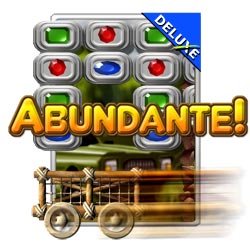 Explore an abundance of puzzle fun in this exotic matching game. Arrange bricks into matching groups of four or more to smash them and release the gems within. Catch the gems with your rolling cart and watch your score soar. Each challenging level brings you closer to the Lost Temple and the mysterious story of an ancient culture. Featuring gorgeous graphics, an immersive storyline, and surprises galore, Abundante! is a journey to a jungle of fun !
Somewhere between the puzzle and arcade genres is this incredible gem of a game. Embark on a treasure-seeking journey and investigate the ancient temples, ruins, and artifacts as you seek out all the bountiful jewels that await you within. As you progress on your search for the storied lost temple of Nahca Rotha, you will unlock 24 pieces to a mysterious amulet. What power could this relic yield ?
Best yet, you are treated to diary entries that describe this incredible story, taking you though thick jungles, examining mysterious sites.
Code: Select all
    .                                 Üúþ­   Ü°   Üþßþ  ÜÜÛÜ
    Þ                                ²  ÜÞ   ±ø .²Ý   ø '' ÄÛÛÜ
     ßþÜþÜÜÜÜ               \      Þ±  Û²Û  °Ý Ü²Û       ßßß ßÛÛÛÜ
 ÛÜ       ßßÛÛÜ       ÜÛ     ²Ü.    þ   ß  .± Þ²²Ý      ÛÜ      ßÛÛÜ°        ÜÛ
 Û²²²²Û²²Û²±²ÛÛ±²Û²Û²ÛÛ²°    ß²²Ý   ø±    Ü°' ÛÛ±Ý     °²Û²Û²²²Û²²²²²²Û²Û±²²Û²²
 ²²±±Û±±²±±±²²ÛÛ²²±±Û±±²±°   Þ²±Ý²Ý   ß°þ±Ýø Þ²±²ø    °±Û²±±Û±±²±²±²±±²±±²±±²±Û
 ÛÛ²Û²²Û±Û²²±²²ÛÛ²±Û²ÛÛ²±  ° ÞÛ±±Þ±²Ü        Þ²±²Ý  °  ±²ÛÛ²²Û²±²Û²±²²²²Û²ÛÛ²ÛÛ
 Ûß°±  ±  ÛÛ±²±°ÛÝ°   ßÛ±°   Þ²±²Þ²±ÛÝ       ܲ±ÛÝ    °±Ûß ²±  °²²²±±²±Ü   ±°ßÛ
  ± °   ° ²²±²Û ÞÛ ±    °   .²²±ÛÝÞ²±²Ü     ÞÛ²±²Ý  °  °  ±    ±°Û²±²²±ÛÛ °  ±
   ° °   ú±²±²² ÞÛ  ° °  °  Þ²±±²Ý ß²±²Ý    Þ²±±ÛÝ.   °  °    °  ²²±Û²°ÞÛÝ  °
          Û²±²±.ÛÝ     °    Þ²±±²Ý  ÞÛ±²Ü   Þ²±±²ÛÝ        °     ÛÛ±²²ÜÛÛ  ú
     ú   ܲ²±±²ÛÛø°     ú   ø²Û±²Ü   ß²±ÛÝ   ²²±±²Ý       °      ²²±Û²ßß °
        ÛÛ²²±²²ß   °         ø²±²ÛÝ ± Þ²±²Ü  øÛ±²²ø      ú     ÜÛ±²±²Û°
       ÞÛø±²±²±              Þ²±±²Ý    ß²±²Ý Þ²±²ø            ÞÛø²Û±²Û
       ÛÛ Û±±²Û±     °       Þ²±²²   °  ÞÛ±² Þ²±²Ý          ° ÞÛܱ²±²±
       ÛÛ°²Û±²² °      ú     ÞÛ±²ø       ß²±.ܲ±ÛÝ        °    ßÛÛÛ±±²
       ÞÛÛ±²±±Û  °           Þ²±²Ý °  ú   ߲ݲ²±²Ý       °       ²ÛÛÛÛÜ
        ßÛÛÛÛ²°              .²²Û          ÞÞ±±±²Ý     ú         ±²±²±ÛÛ
          ±²ÛÛÛÛÛÜÜÛÜÜ     Þ²²²         °  ß²Û²Ü             ± Û²±Û²°ßÛÜ
          Û±±±²°ßßÛÄ '' ú  Þ²²ß       ³         ß²            °  ²±±²Û   ßÛ.
         ÜÛ²±ÛÛÜ   ßßß Þ  ,²ß   ú ù ÄÄÄÄ ù ú     \             ÜÛ²±ÛÛÜ    ßþÜ
        ßßßßßßßßßÞ      ßþø          ³                       Ýßßßßßßßßß      Ý
        ßßßßßßßßßß                                           ßßßßßßßßßß      þ.
                   T h e     N o v a     T e a m
 _____________________________________ú_________________________________SN/TNT_

ôÄÄÄTÄhÄeÄÄÄNÄoÄvÄaÄÄÄTÄeÄaÄmÄÄÄÄÄTNTÄÄ