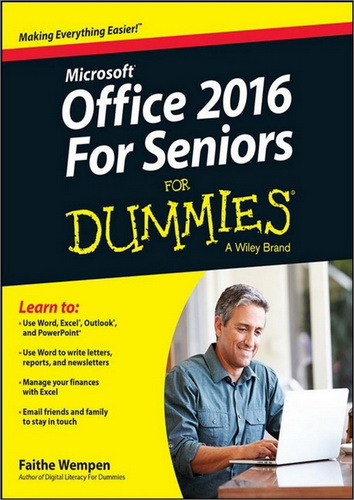 Code: Select all
Office 2016! Office 2016 For Seniors For Dummies is the ideal resource for learning the fundamentals of the Microsoft Office suite. You′ll explore the functionality of Word, Excel, PowerPoint, and Outlook, establishing basic knowledge that you can build upon as you continue to experiment with Office′s applications. Larger font and image sizes mean you can easily read the content and text that gets back to basics walks you through everything you need to know to use these programs in a variety of environments.

Whether you want to improve your Microsoft Office skills to stay competitive at work or to finally write that novel you′ve had simmering in your head for the last ten years, this is the resource you need to get started!

Access clear-cut, easy-to-read steps that show you how to get the most out of Microsoft Word, Excel, PowerPoint, and Outlook
Learn the fundamentals of Microsoft Office 2016 -starting with the basics
Establish good work habits within the Microsoft Office suite to set yourself up for success
Find the information you′re looking for with short chapter openers that point you in the right direction
Office 2016 For Seniors For Dummies is essential to keeping your mind sharp and your computer skills on the cutting edge!!
Microsoft.Office.2016.For.Seniors.For.Dummies.(COMP).EPUB.Wempen.Faithe-ErapidTube.epub [5.86 Mb]
Microsoft.Office.2016.For.Seniors.For.Dummies.(COMP).PDF.Wempen.Faithe-ErapidTube.pdf [11.80 Mb]
[ Add all 2 links to your ed2k client ]