Hardcore Heroes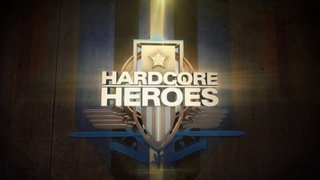 Official Site
-
IMDb
AHCTV wrote:From Spiderman to Batman, Superman to Wonder Woman, we've all heard the stories of superheroes with superhuman abilities; they dodge bullets, take out bad guys, and fly through the sky with ease. But who are the real badasses outside of Hollywood? This summer, American Heroes Channel goes into blockbuster territory in the all-new original series HARDCORE HEROES. Featuring epic, true stories of real life heroes who are diehard to the max, HARDCORE HEROES tells the tales of ordinary people with incredible loyalty, valor and bravery – those often forgotten about heroes who have risked their lives for others, and laughed in the face of danger. This action-packed series follows these courageous fighters as they battle the elements, save hundreds of lives, and ultimately, change the course of history forever.

Each one hour episode of HARDCORE HEROES features two stories interlaced with commentary from the heroes themselves when available, eyewitnesses and experts, including Ben Thompson (author: "Badass: A Relentless Onslaught of the Toughest Warlords, Vikings, Samurai, Pirates, Gunfighters, and Military Commanders to Ever Live", William Morrow Paperbacks), considered by many to be the Internet's foremost expert on "badassitude" on his website, "Badass of the Week".
Season 1
(HDTV)
Hardcore.Heroes.S01E02.Soaring.To.New.Heights.HDTV.x264-CBFM.mp4 [325.70 Mb]
Hardcore.Heroes.S01E03.Warriors.On.The.Frontlines.HDTV.x264-CBFM.mp4 [356.59 Mb]
Hardcore.Heroes.S01E04.For.A.Greater.Cause.HDTV.x264-CBFM.mp4 [317.95 Mb]
Hardcore.Heroes.S01E05.Lone.Wolves.HDTV.x264-CBFM.mp4 [355.26 Mb]
Hardcore.Heroes.S01E06.Taking.Flight.HDTV.x264-CBFM.mp4 [373.48 Mb]
-thanks: chlee [1]. memor [4].
[ Add all 5 links to your ed2k client ]