Hi!
As you may have seen there are some topics that are missing pictures.
Together with LordDan we have thought up following idea. If you find new ones you can submit them here and PM the moderator for that particular topic (ie: LordDan for the TV stuff, Moeke for the Anime, etc).
If we post here, we can all see if there is already a new picture posted for a thread.
You see who is the moderator in the top of the topic: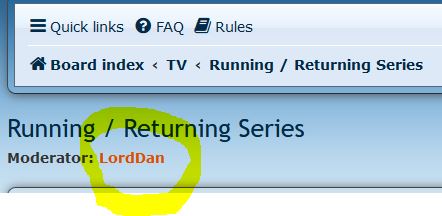 Some tips
A good width is 758 pixels (to load the page faster).
A good height is max about 426 pixels for TV-series banners and about 1122 pixels for movie posters.
Upload the picture here https://postimages.org/
Settings 1: Do not resize my picture
Settings 2: No expiration
Copy the Direct link
One way to do it is to use the following format:

Code: Select all

Brooklyn Nine-Nine: https://i.postimg.cc/nhHY5PFH/2.jpg
https://sharethefiles.com/forum/viewtopic.php?f=70&t=239445

Ghost Adventures: https://i.postimg.cc/kG2WN2dz/1pic.jpg
https://sharethefiles.com/forum/viewtopic.php?f=132&t=139049

Ted Lasso: https://i.postimg.cc/8kd73dZ4/1pic.jpg
https://sharethefiles.com/forum/viewtopic.php?f=70&t=280012

Post your pictures and then right click on your posts header to copy the link to your post



.
.
And then PM the moderator the link to your post with a nice message, maybe:

Code: Select all

Hi LordDan! Here are some new pictures: https://sharethefiles.com/forum/viewtopic.php?p=1649411#p1649411