Copy
Xbox 360
games, burn
Xbox 360
games
To copy Xbox 360 games, it is a hard and complicated task. But why do people endeavor to burn Xbox 360 games still? That is because original games are so expensive that people need to protect their investments against damage, scratch, or frequent use. The guide to copy Xbox 360 games shows you how to burn Xbox 360 games with Xbox 360 game copy/backup software in details.
The guide to copy Xbox 360 games consists of FOUR parts:
1) FTP connection from your PC to your Xbox
2) Create an X-iso file of Xbox game
3) Write the created X-iso file to a DVD-R
4) Run copied games on your Xbox 360
Let's start the hard and interested task now!
Step 1: How to FTP
The precondition is a modded Xbox (soft modded or hard modded), crossover cable, new/custom (hacked) dashboard on your xbox, FlashFXP (a FTP program). And your Xbox needs to be flashed, autoinstallers can do this.
1: Go into your Xbox dashboard settings and make sure that your IP is set to 192.168.0.100, and that the Subnet Mask is 255.255.255.0, and make sure that Static IP is ON.
2: After saving your settings, connect your Xbox via crossover cable to your computer's ethernet port.
3: Next go into your Network Connections. Then right-click on "Properties".
4: Click on Internet Protocal and tick the bubble that says "Use the follow IP"
5: Type in 192.168.0.1 for the IP, and the Subnet Mask should be 255.255.255.0
6: Boot up your xbox, then open up FlashFXP or whatever FTP client you are using.
Tip: If you have followed all the steps and still can't connect, your firewall might be stopping you. Try turning it off.
7: In FlashFXP, click on the lightning bolt (quick connect). for the server URL, type in 192.168.0.100, and for the username it should be "xbox" and same for the password.
8: Your computer should now be connected, and it should be showing a bunch of diferent drives (C,D,E,F,G,X,Y,Z).
Step 2: Create an X-iso file of Xbox game
In order to copy Xbox 360 games, you need to make an X-iso file first.
1. After your computer is connected, open
Qwix
Tip: Qwit is freeware, you can download it with RAR or ZIP format.
2. Click create iso.
3. Click FTP folder, then click the browse button to select the game that needs to be copied.If you're backing up an Xbox game stored on your Xbox HD, browse to where your games are stored. If you're backing up a game from your Xbox DVD drive, then select the D drive.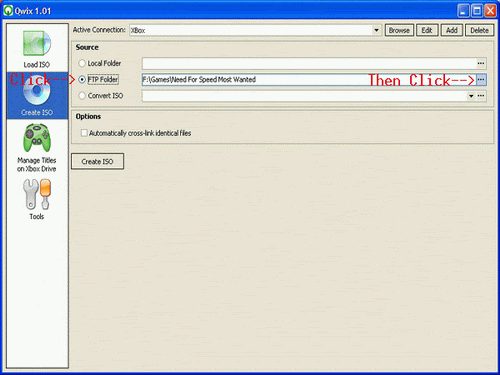 Note: If you're using the UnleashX dash, the D drive doesn't show up in the FTP browser. You need to use the Avalaunch or EvoX dash so that the D drive will appear in the FTP browser in Qwix.
4. Check the autocrosslink box, and click create iso.
Note: Sometimes you need to uncheck the auto crosslink feature. While trying to backup Morrowind, Qwix would freeze with the autocrosslink feature checked. Also you may have to shut down your AV while backing up games with Qwix.
5. Enter a name and destination for the iso folder. Make sure the save as type box is set to iso. Then click save.
6. It's done. In general, it takes less than 10-15 minutes to compile a X-iso file.
Step 3: Write the created X-iso file to a DVD-R
How to burn Xbox 360 games: Here the tool used is
BlindWrite
. Blindwrite is ultimate game copy software. It extracts all the characteristics of your media to your harddrive to reproduce a working copy of your media.
Step 4: Run copied games on your Xbox 360
To be able to run Xbox games that you have copied, you need to modify your Xbox. The following lists two ways to do this.
1. One is to buy and install a MOD-chip. This will allow your console to play Xbox games that you have copied as well as play imported games from other countries with perfect sound and video with no problem at all. While it may seem that all you have to do is purchase a MOD-Chip and then voila, you have another think coming. There are actually a lot of things that you should consider when buying a MOD-Chip. Most recommend the Divineo Modchips, which are purported to be really reliable. Some of the popular brands are the Xecuter 2 and 3, Xenium, SmartXX, X-bit, Alladin, Chameleon and Xchip.
2. Another way in copying and using Xbox games is to change the BIOS of the XBOX so that it will no longer read the requirements of the digitally-signed software. This is basically reprogramming the whole BIOS.
You have completed the hard task to copy Xbox 360 games. Good Luck
---
Original Source