Bulk Rename Utility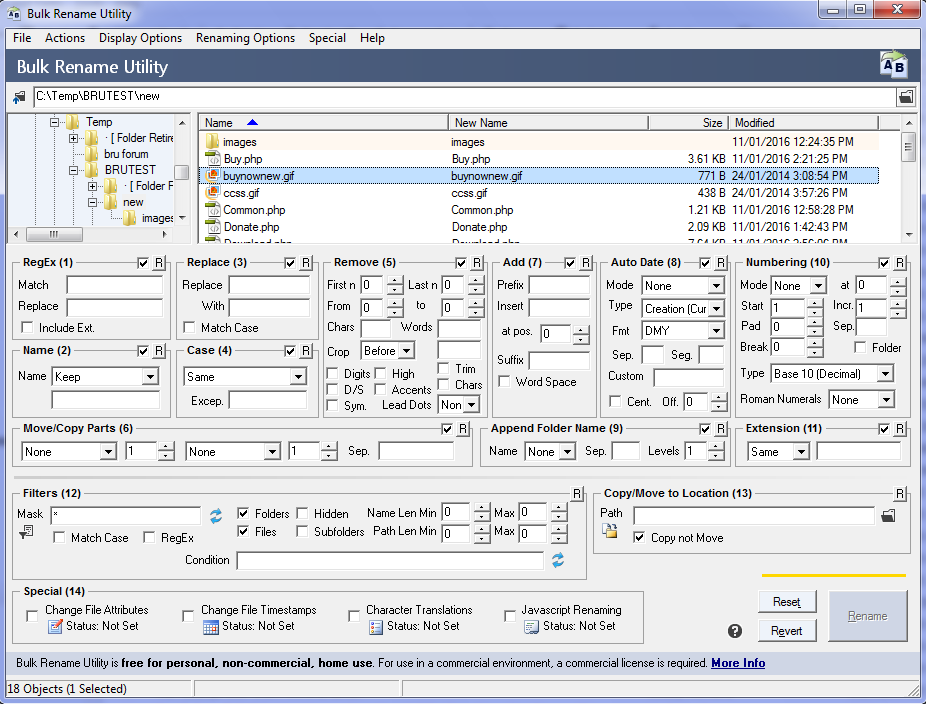 Bulk Rename Utility version 3.4.2.0
Windows 10, 8, 7, Server 2019, 2016, 2012, 2008
Released on 05 Feb 2021
The latest version of Bulk Rename Utility to support Windows XP, Vista, 2003 is version 3.2.0.1: this version is only included in the Portable Version ZIP download.
Introduction
Bulk Rename Utility: file renaming software for Windows. Bulk Rename Utility is free of charge for personal, private use, at home. To use Bulk Rename Utility within a business entity, company or for commercial purposes, a commercial license is required.
Bulk Rename Utility allows you to easily rename files and entire folders based upon extremely flexible criteria. Add date/time stamps, replace numbers, insert text, convert case, add auto-numbers, process folders and sub-folders....plus a whole lot more!
Rename multiple files quickly, according to many flexible criteria. Learn More
Rename files in many ways: add, replace, insert text into file names. Convert case, add numbers. Remove or change file extensions.
Check the detailed preview before renaming.
Rename photos using EXIF metadata (i.e. "Date Picture Taken", "Resolution" and other information embedded in all JPG photo files) Rename your holiday pictures from a meaningless dsc1790.jpg to NewYork1.jpg in a flash.
Rename MP3 files using ID3 tags (a.k.a. MP3 ID3 tag renaming).
Rename files using Windows File Properties (e.g. media video length, width, height, rate, publisher, etc).
Change files' creation and modification time stamps.
Home page:
https://www.bulkrenameutility.co.uk/
More downloads (manual, command line version etc):
https://www.bulkrenameutility.co.uk/Download.php
Portable Version
Bulk Rename Utility No-Installer Version (BRU_NoInstall.ZIP). This ZIP file contains all the files for all the Windows platforms in a compressed file without installer. Useful to download a fully working program which is portable and can be run from a write-protected disc or on a computer where you have no installation privileges. Download the ZIP file, extract files to a folder and run Bulk Rename Utility from there without having to install it first.
Background
ChangeLog:
Installation Notes
The installer contains both the 32-bit and the 64-bit version.
The MD5 value of the installer is: 770bbac7d4c8d2499369b50d4c37b747
Portable Zip Version MD5 value: 99fb72bed8982490658d9019b59f2251
BRU_setup_3.4.2.0.exe [10.35 Mb]
BRU_NoInstall.zip [18.94 Mb]
[ Add all 2 links to your ed2k client ]