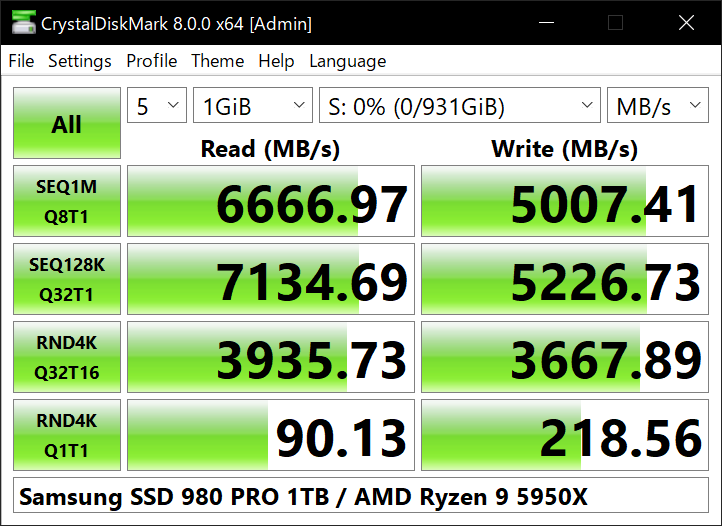 CrystalDiskMark
A lightweight and portable benchmark utility designed to help you check your HDD capabilities by performing sequential and random read/write tests
Portable CrystalDiskMark is a lightweight application built specifically for helping you gather useful information about your HDD.
This HDD benchmark utility is able to measure sequential and random read/write speeds.
Since this is the portable version of the program, it is important to mention that it doesn't leave any traces in the Windows Registry. You can copy it on any USB flash drive or other devices, and take it with you whenever you need to measure your HDD performance on the fly.
Portable CrystalDiskMark sports a clean and simple interface that gives users the possibility to manually select the number of test runs, size of the test, and drive that will be analyzed.
Furthermore, you can perform a sequential read or write, or random 4KB/512KB reads or writes test.
The generated information can be copied to the Clipboard and pasted into other third-party applications.
Additionally, you can change the program's layout by selecting from different themes.
During our testing we have noticed that the tool needs a couple of minutes to carry out the testing operation. It doesn't eat up a lot of CPU and memory, so it doesn't burden the overall performance of the computer.
All things considered, Portable CrystalDiskMark proves to be a small but efficient tool when it comes to checking your HDD capabilities. The intuitive layout and overall simplicity make it an ideal tool for all types of users, regardless of their experience level.
CrystalDiskMark 8.0.0
CrystalDiskMark8_0_0.zip [4.01 Mb]