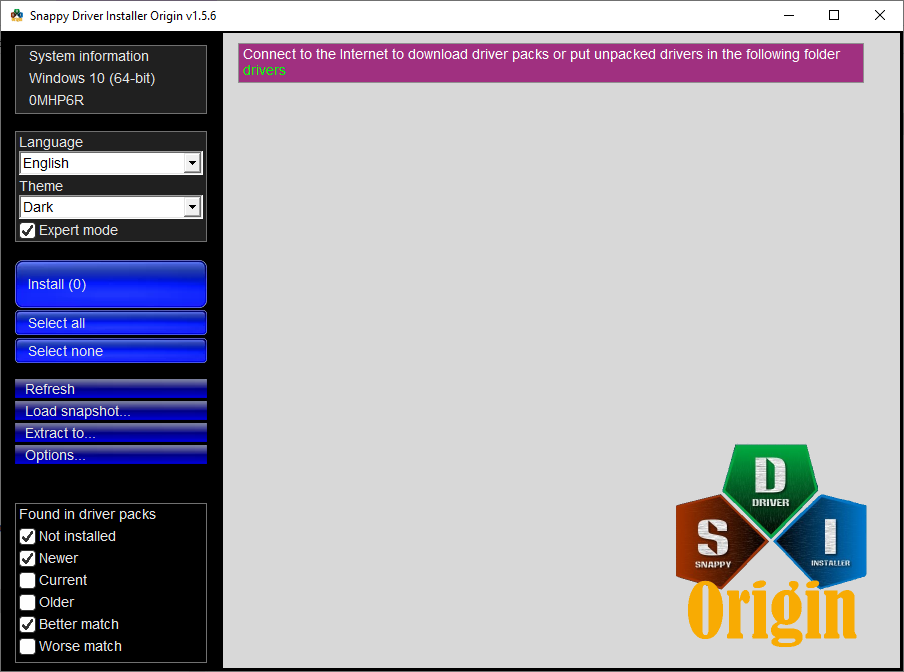 Snappy Driver Installer Origin 1.7.1.721
Summary:
Snappy Driver Installer Origin is a portable Windows tool to install and update device drivers. It can be used offline to install drivers where Internet isn't available. No more searching for drivers after a clean install, just let Snappy Driver Installer Origin do it's thing and your job will be done in no time. The perfect technician's tool.
Snappy Driver Installer Origin remains a free, open source project. Free means it costs you nothing to download and use. Free means it is free of adware, malware, backdoors, unwanted third party software or other dodgy stuff.
Features:
State of the art driver matching algorithm.
Portable, run it from a USB flash drive, no installation necessary.
Built in application and driver pack updates.
Can be fully automated using the built in scripting engine.
Multilingual interface.
Built-in and custom themes.
Supports Windows XP, Vista, 7, 8, 8.1, 10.
In This Release:
Driver Packs 20.10.3
* Further testing revealed some issues with the new code that deals with path
read/write conditions and building directory structures.
* Tools updated as follows:
msys2 v20200903
gcc v7.1.0
boost v1.63.0
webp v0.6.1
libtorrent v1.0.8
7-zip v16.02
Snappy.Driver.Installer.Origin.1.7.1.721.zip [5.65 Mb]