Display Driver Uninstaller 18.0.3.7 Multilingual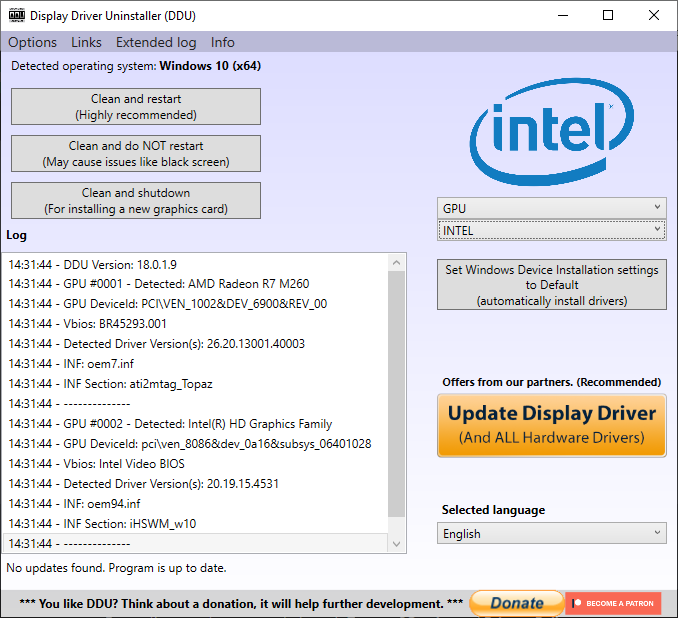 Display Driver Uninstaller is a driver removal utility that can help you completely uninstall AMD/NVIDIA graphics card drivers and packages from your system, without leaving leftovers behind (including registry keys, folders and files, driver store). The AMD/NVIDIA video drivers can normally be uninstalled from the Windows Control panel, this driver uninstaller program was designed to be used in cases where the standard driver uninstall fails, or anyway when you need to thoroughly delete NVIDIA and ATI video card drivers.
Requirement:
-Windows Vista SP2 up to Windows 10 2009 (20h2) (19042.xxx October 2020) (anything higher is at your own risk)
-NVIDIA, AMD, Intel GPUs
-Also support basic Realtek audio driver cleanup.
-Microsoft .NET Framework 4.5 or higher
Display Driver Uninstaller (DDU) V18.0.3.7 Released.
ChangeLog:
-All: DDU can now be used from a network path "\\server\DDU\"
-All: added more logs to the impersonation of SYSTEM.
-All: additional log for Upper/ Lower filters.
-ALL: Registry cleanup enhancement for typelib/Interfaces removal.
-Nvidia: Small enhancement for the Upper filters removal of (nvpciflt, nvkflt)
-Intel: Registry leftover removal related to iGCC (Intel graphic command center)
-Intel: Additional MFT registry keys removal.
-Language: Swedish.xml
Recommended usage:
-DDU should be used when having a problem uninstalling / installing a driver or when switching GPU brand.
-DDU should not be used every time you install a new driver unless you know what you are doing.
-The tool can be used in Normal mode but for absolute stability when using DDU, Safemode is always the best.
-Make a backup or a system restore (but it should normally be pretty safe).
-It is best to exclude the DDU folder completely from any security software to avoid issues.
Homepage:
https://www.wagnardsoft.com/
Changelog:
https://www.wagnardsoft.com/blog
DDU.v18.0.3.7.exe [1.28 Mb]