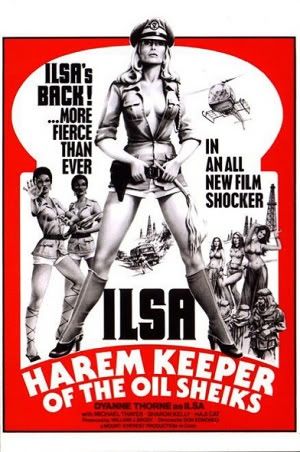 Ilsa: Harem Keeper of the Oil Sheiks

Finding a new employer, and looking not a day older since the end of World War II, Ilsa works for an Arab sheik who enjoys importing females to use as sex slaves. An American millionaire's daughter, a movie star, and an attractive equestrian are among his latest victims
Link Info.
Code: Select all
Generelt
---------
Name 	Ilse-Harem.Keeper.Of.The.Oil.Sheiks.1976.Dvd5.Nordic-Pal		
Format                           : DVD Video
Time                         : 89min
Bitrate                   : 6000~ Kbps
Subs                        : Danish, Swedish,Norwegian,Suimi Finland

Video.
-------
Format                           : MPEG Video
Format version                    : Version 2
Bitrate                    : Variabel
Wide                           : 720 billedpunkter
Hight                            : 576 billedpunkter
Size                : 16:9
Frames                  : 25,000 fps
Standard                         : PAL

sound #1
-------
Format                           : AC-3
Format/Info                      : Audio Coding 3
Channels                        : 2 kanaler
Sampling rate                    : 48,0 KHz
Language                           : Engelsk

Extra features on dvd.
-----------------------
Theatrical Trailer - Commentary by actress Dyanne Thorne.
Director Don Edmons and actor Howard Maurer, moderated by
humorist Martin Lewis.

Iso made with Dvdfab6.
Compressed to Dvd5.
Quality = 4431mb to 4300mb = 97%
Full dvd copy.
Ed2k-link :
Ilse-Harem.Keeper.Of.The.Oil.Sheiks.1976.Dvd5.Nordic-Pal.iso [4.20 Gb]